June X Jerry - Mini Bernedoodles
Basic Information
June and Jerry had 8 beautiful puppies born on September 21. There are six blue merle tri color and two classic black tri color. June's litter will mature in the 40-50 lb range. They will be furnished and low to non shedding.
We kept a daughter from her June's last litter pictured in this post and are thrilled with how she's maturing. Two other puppies from June's first litter were kept back and sold as a trained puppies in our started puppy training program. Both ended up going to homes as teen Autism support dogs and are doing wondeful. We can't say enough good things about this cross. They're laid back, calm and so beautiful. Puppies will be ready to go home November 19th. Any puppies we decide to keep back in our started puppy training program will be ready to go home the end of February 2023. Contact Becca for more info 619-471-5183.
Classic black tri color puppies $5500
Blue merle tri color puppies $7500
Reserve A Puppy
Deposit: $100
To reserve a pup from this litter, please contact us.
Parents
Shady Oak's Jerry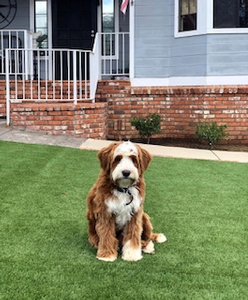 Shady Oak's June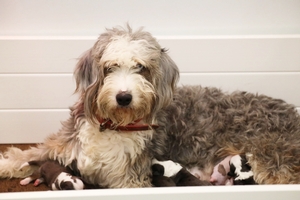 Request More Information or Call 619-471-5183