Ellie X Jerry - Mini Bernedoodles
Basic Information
This is Ellie and Jerry's third litter together. What a wonderful cross. Maybe even our favorite! They produce laid back, easy going BEAUTIFUL puppies that mature in the 30-40 lb range. Ellie's litter was born on 9/22 and will be ready to go home Saturday 11/19. Contact Becca for more info 619-471-5183.
Blue merle tri color puppies are $7500
Black Tri color puppies are $5500
Reserve A Puppy
Deposit: $0
To reserve a pup from this litter, please contact us.
Parents
Shady Oak's Jerry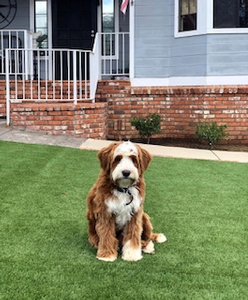 Shady Oak's Ellie
Request More Information or Call 619-471-5183